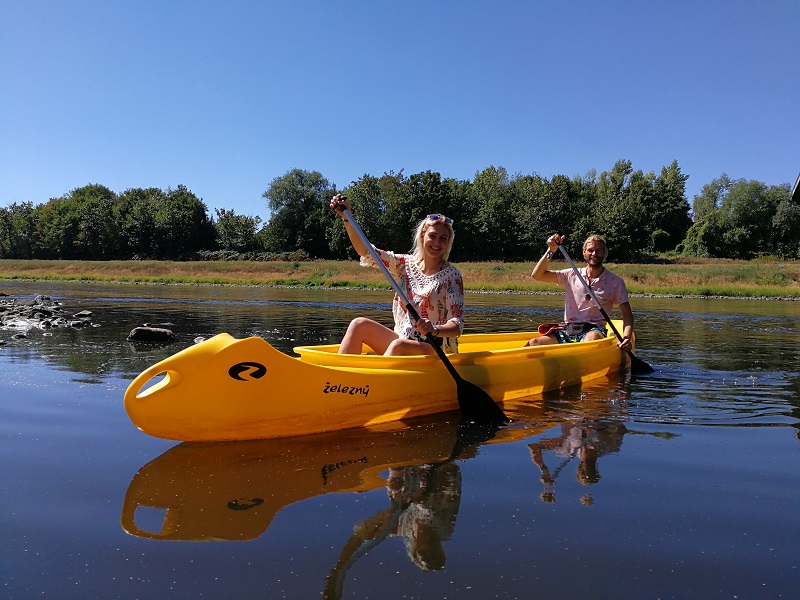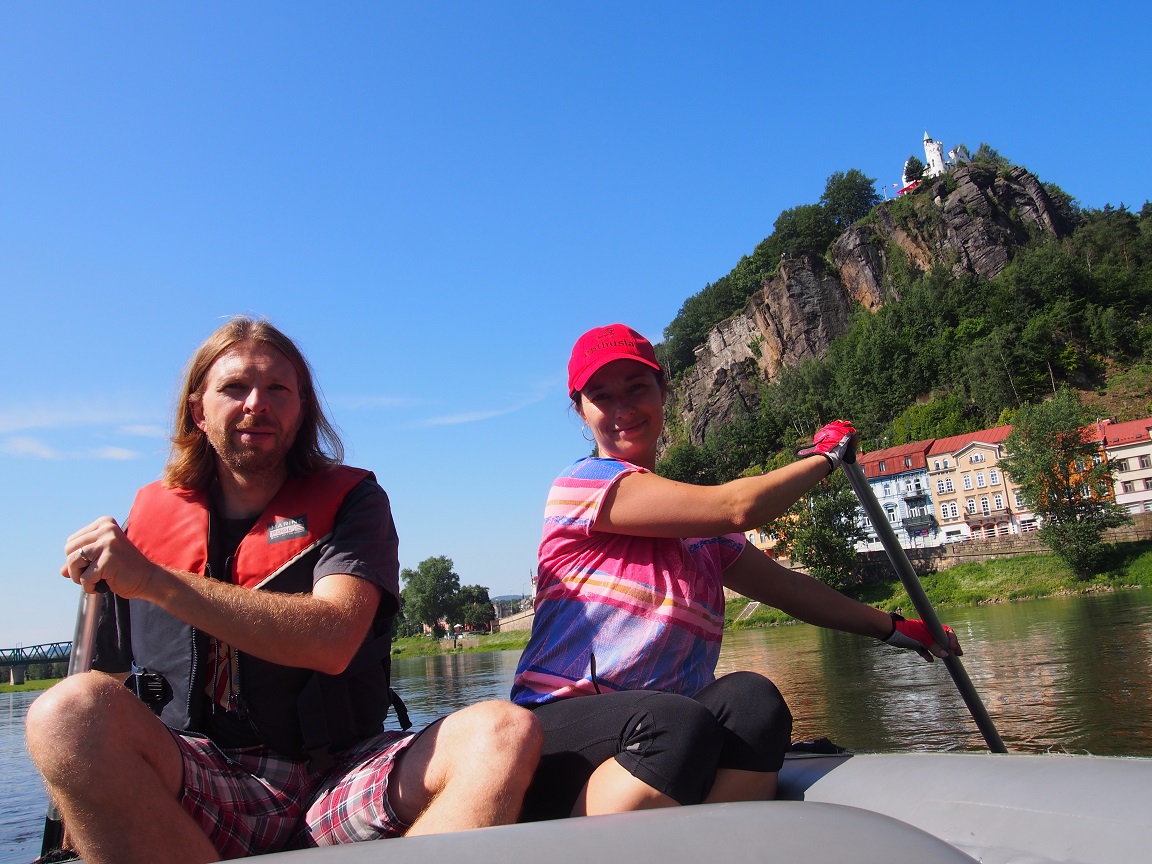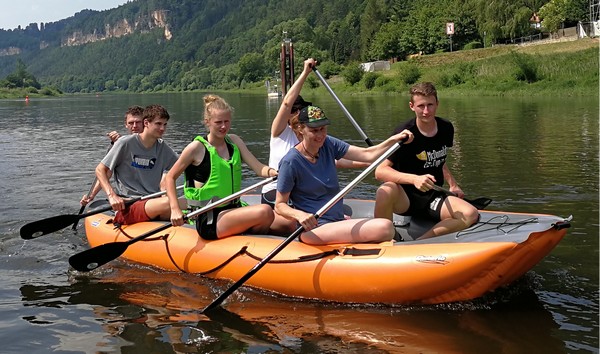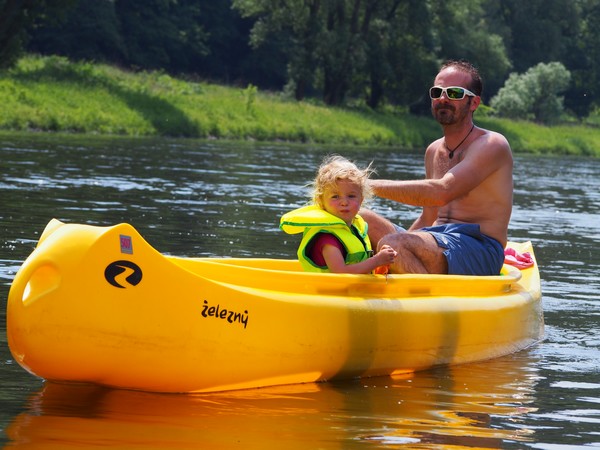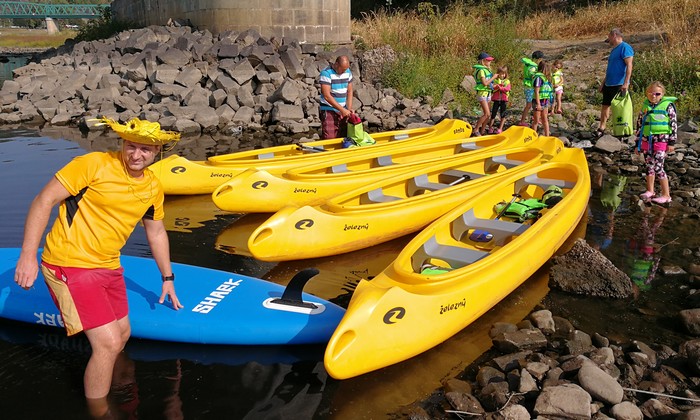 Program:
Day 1 - Arrival to Camp Děčín and individual program
You can go to the zoo, visit the Děčín chateau with a rose garden, go to the aquapark with thermal water, stay with children on a large outdoor playground, sit in the camping bistro or one of the many nearby cafes and pubs. All these options are only a few minutes' walks from the campsite. You can enjoy the evening while sitting in the camping bistro or by the fireplace with a barbecue.
Day 2 - Bohemian Central Mountains
Start in Camp Děčín
After breakfast we will take you and the boats to Ústí nad Labem. On the way you will pass under the Marian Bridge, one of the 10th most unique reinforced concrete structures in the world. Then you sail along the quiet Elbe among the green hills and the river brings you after 5 to 6 hours to the final destination - Camp Děčín.
In the evening you can chill with the Captain beer from the local mini-brewery and also bite some of the local specialties in the bistro in the Camp.
Day 3 - Bohemian Switzerland through deep canyon
Start in Camp Děčín
Today we start with a cruise and first sail through the historic town of Děčín and immerse yourself in the breathtaking Elbe canyon, which is surrounded on both sides by a wall of rock towers. The water is calm and the journey from Děčín to Schmilka takes about 3 hours, to Bad Schandau 4 - 5 hours. It depends on how long you sit in the ferry pub Dolní Grund, which offers the most beautiful view of the rocks in the world. You continue to Saxon Switzerland, where you will be greeted by Šrámové Kameny - Rock towers. At the final destination of the cruise, you can enjoy the café atmosphere of the spa town of Bad Schandau as a reward. You return individually by train back to Děčín. After returning to the camp, there is an individual departure or extension of stay in Camp Děčín.
There are two types of accommodation:
Glamping tent - Luxury, fully equipped family tent for up to 4 people with beds and bedding, standing lamp, dishes and electrical connection. It's all about a new style of camping which you can experience on our campsite.
Bungalov - Modern cosy wooden bungalow for up to 5 people with personal bathroom and WC. A lovely terrace in front of the bungalow invites you for an evening gathering.
You can find more about accommodation at Camp Děčín
It is possible to use barbecue areas in the camp.
Bungalov
Glamping tent
from 2 persons
125 €

111 €

102 €

92 €
Date: 10. 07. - 28. 08.

Date: 01. 04. - 30. 06. + 28. 08. - 31. 10.

Discount for a child in a bungalov: 21 €
Discount for a child in a glamping: 12,5 €
Child up to 14 years
Minimum number of persons: 2
Price includes:
2x accommodations in Glamping tents with shared bathroom or fully furnished bungalows with a private bathroom with bedding
2x rich breakfast
2x boat rental, including the necessary equipment and transport of boats to the starting point and back
1x passenger transport to Ústí nad Labem
Recreational fees
Price does not include
Parking / day = 2,8 €
Return by train from Bad Schandau (approx. 3 €)
Extension of stay in the Děčín camp - on request